One of my greatest moments is when I got to meet Dale Chihuly & his family. We were able to find them another addition to their family (Rocky) in 2010.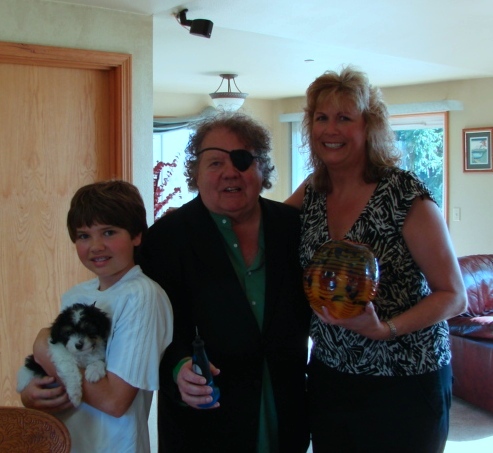 I attached a couple of photos of Bailey. She is bigger by about two pounds now. We all just love her so much, she has been a wonderful addition to our family. She has to be the smartest dog ever. She is very easy to train and very eager to please. She loves to play, but is the best snuggler when it's time to settle down. Her favorite toys are the boys' footballs. She loves pushing them around with her body. You did a great job socializing her. Thanks for everything. Take care, Dan, Dawn, Josh and Joey Matte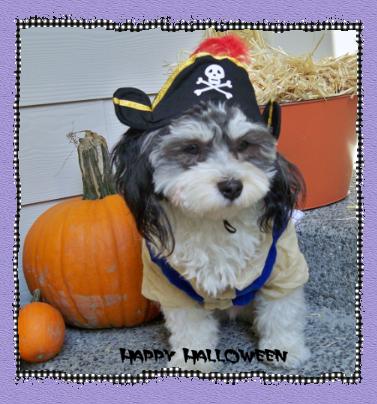 Hi! It's Ashley Ragland. Just wanted to share Linus' pictures that we told you about. Including the one they used at the dog show in Seattle. Hope that you enjoy them. His full registered name is Grandview's Linus in Motion. Motion was our first dog.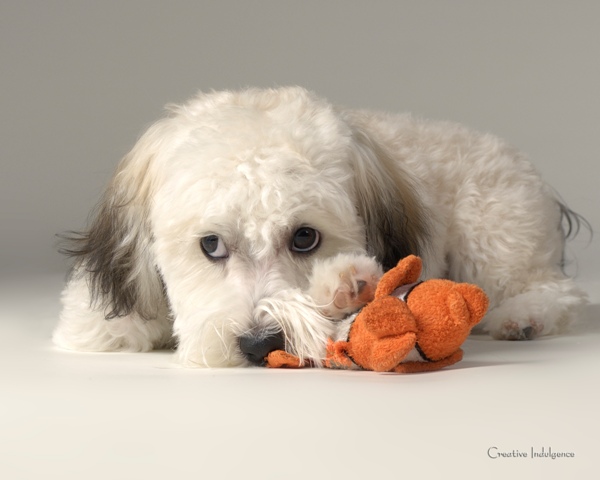 Merry Christmas from Riley, Murphy, and newest boy,Donovan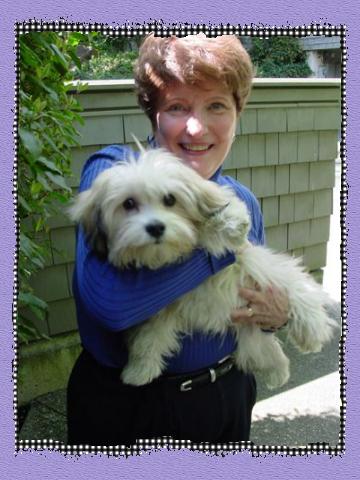 Hi Laura and Bob,
Thought you might like to see how our cute Katie is doing —– she had her surgery 2 weeks ago and is doing so well !
She is the love of our lives, and has certainly helped to mend our broken hearts .
Thanks again for allowing us to be her parents ,
Lisa and Frank
PS — she will be going on vacation with us down to Carmel, CA the end of May ( and they say it's a dog's life !!!! )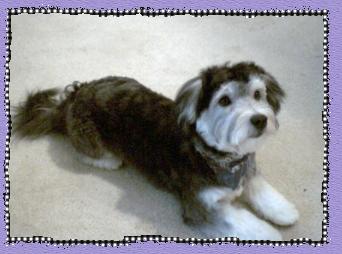 Bailey 6 months
Dam: Grandviews Beyonce and Sire: Aldron's See Me Score
Update on Bailey
Bailey is 6 months old and had his first haircut yesterday. He is doing great and has fans all around the neighborhood. He went with us to CA on the airplane in December and slept through the whole thing, stayed in a pet friendly hotel in Carmel and was the toast of the town. Thank you for your support and information, especially on grooming when I took him home, I'm still using it and passing it along to other Havanese owners I meet. His coloring has changed quite a bit from when we brought him home, He's so gorgeous, smart and sweet, I thought I'd send a photo from the day we picked him out at 2 weeks, one from 8 weeks and two from yesterday. Take care.
Tracy Lowen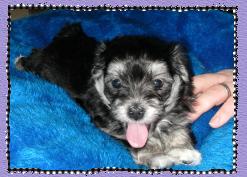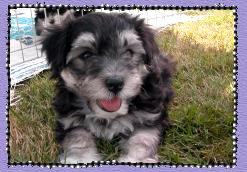 Bailey 2 weeks ————— Bailey 8 weeks

Congratulations to John and Joann on there new addtion to there family, Kuper.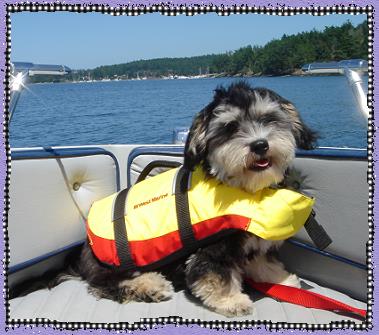 Hi Laura—-We are loving our great dog!!!! He just returned from his first sailboat trip—we were out for four days only as we didn't want to push his limits, or ours! He loved the experience and we loved the fact that he learned to use the astroturf baited with his urine on the aft part of the boat. We did not once have to take him ashore when we were anchored out—SWEET!!!! He is with us all the time and after two Bernese Mountain dogs, I find myself stepping on him every so often, but he doesn't hold a grudge. He is doing well with his training, but still doesn't let us know when he has to go outside. We're getting pretty good at deciphering his actions and most of his accidents are our fault. As this will be our last dog–John will be 93 when Kuper is 15—we couldn't have found a better one. We will bring him to see you in the fall when we return to Snoqualmie Ridge. Love your Website and have referred several people to it—Joann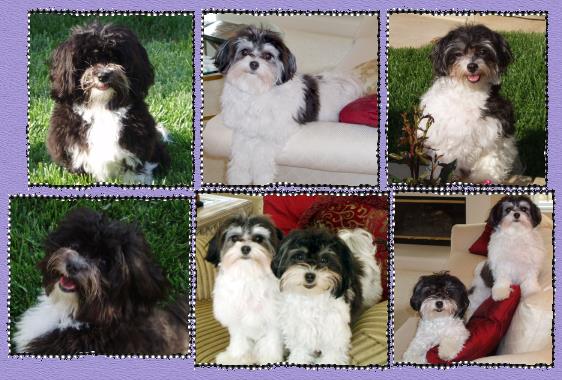 Hi Laura,
The puppies are doing great! Lanette and I have been taking them to classes at Petsmart. They caught on to everything very quickly. The trainer has said that this breed is very smart and easy to train. I miss agree when watching the others. We have been ready enjoying them, they keep us very entertained. Especially when all four get together.
Take care,
Vicki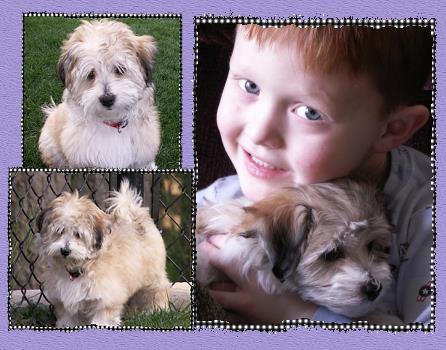 Congratulations to Christina Brown and her family on their new addition Grandview's Buffy!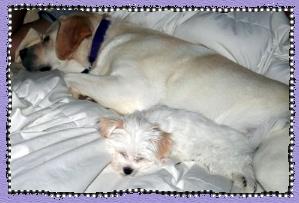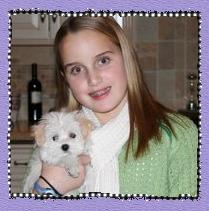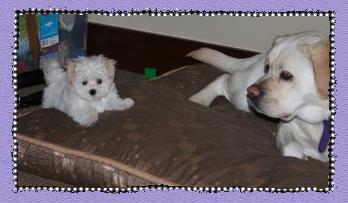 Congratulations to the Brown family on their new addition, Rocky!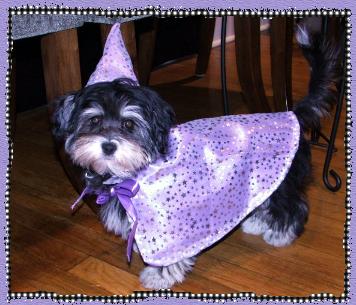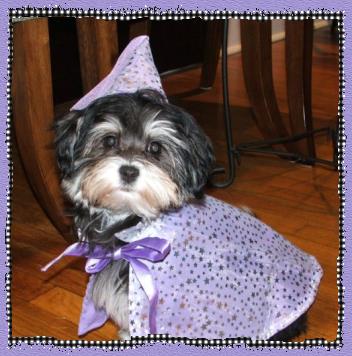 Congratulations to the Green family on there new addition Grandview's Abby born 6-20-05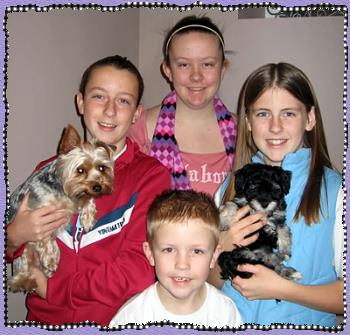 Laura,
We are finally getting around to sending you a picture.  We did settle on the name "Koby".  He has adjusted very well and even our stubborn Yorkie, Smitty has taken to him.  He still is a bundle of energy, but what would a puppy be without it.  He really loves going outside, weather is the only thing stopping us from letting him spend more time out their.  We have a very large fenced yard and Smitty keeps an eye on him when they are outside. (probably teaching him his bad habits as well).  The picture was taken on January 3rd with his new brothers and sisters.  Taylor is center bottom, Heidi holding Smitty, Kelsey center top, and Brittney holding Koby.  All seems well with Koby, eats, drinks, sleeps & plays.  He has already been spoiled.  He has to take his naps up on the couch.
We will keep you posted and send another photo when he gets a little older.
Best regards,
The Greenback's
Tom, Cheryl, Kelsey, Heidi, Brittney, Taylor & Smitty,  Koby too.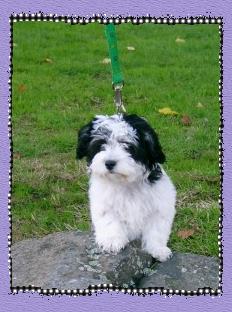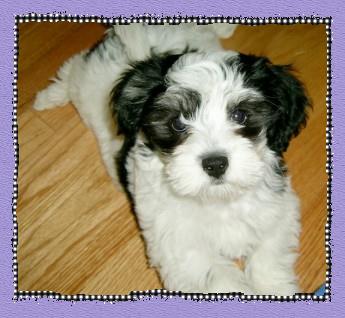 Max is doing great!  He was so well behaved over the holidays.  He met many relatives for the first time and loved them all.He recently finished puppy kindergarten and made some new friends.  I must admit, he did NOT love his teacher but the other puppies thought he was pretty cool.  On his last day he surprised the teacher by prancing through the agility area without a mistake.  Her jaw dropped and he had his nose in the air.  It was pretty funny.My husband, after not wanting a dog, has become his most devoted fan.  He brushes Max every morning and runs with him around the neighborhood. They are truly best buddies!
Thanks, Laura, for all of your support.  Max is getting to be more fun every day!
Sincerely,The Ikeda family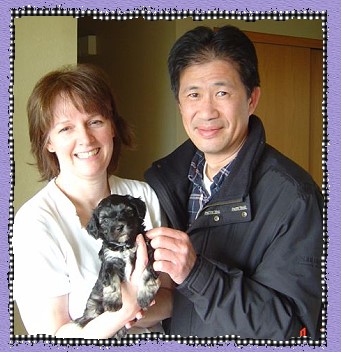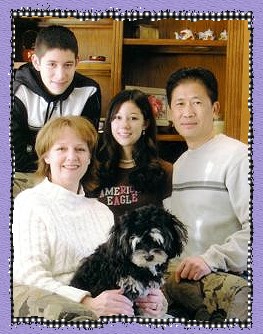 Congradulations to the Hsu Family with their new addition Clarence
Merry Christmas from Cindy, John, Brian, Marissa and Clarence 2005

Congratulations to Steve, Leah and Eric on their new addition to their Family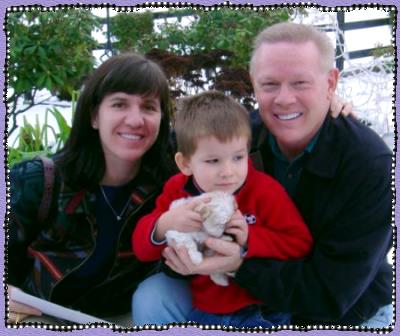 Hi Laura,
Just wanted to let you know that Tanner is doing great. He has adapted well to life with us. Eric and tanner have become good friends already. We look forward to having Tanner's half brother next door to us soon. 'Ricky', Tanner's half brother, and Tanner will be taking puppy classes together in January and hopefully will become good friends too. We thoroughly enjoy having a new puppy in the house. My cats have yet to adjust to him running around but hopefully they will. We will send pictures soon or you can check out our web site and see pictures of him too. www.slhiller.com Steve adds on pictures on a regular basis. Tanner has been peeing outside on a regular basis and beginning to poop out there more frequently too. It's been a little cold so he starts to shiver. Every one that meets Tanner just falls in love with him and his cuteness.
Thank you so much Laura.
Leah

Congratulations to the Green family on their knew addition, Grandview's Abbey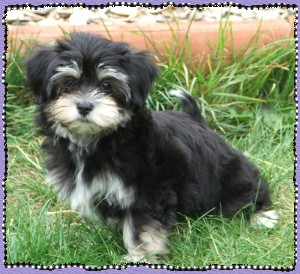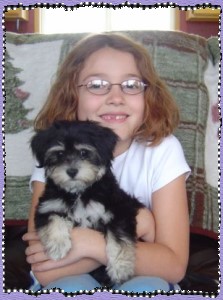 Hi,
Just dropping you a quick line to let you know everything is going great with Abbey! She did really good on the car ride home, and even went potty outside when we got home! She did really good with going in her crate, and seems to be settling in great. She is VERY playful and loves to run around in the backyard. She slept really good last night also. We are SO happy that she is ours, and we are looking forward to her many years ahead with us. Thank you so much for being such a loving and caring breeder, it really shows in your puppies. It was such a pleasure meeting you and your husband, and we definitely be keeping in touch. Take care.
Sincerely
Jonathan, Stacey and Miette

Congratulation to Dan & Dayna on their new addition Keshi.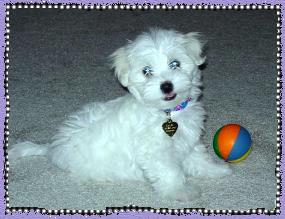 Hi Laura,
This is a long overdue note of thanks for our wonderful little girl!!! Our "Keshi" (named after a pearl) came home with us on June 8th and life has never been better. She goes to work with us in our jewelry store 6 days a week and has daily visitors!
Many thanks, we love her so much,
Dayna & Dan

Congratulations to Sue White and her Family on their new Addition Paco!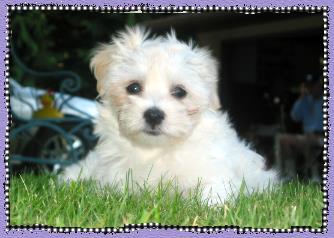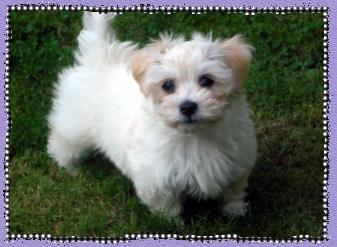 Meet the new addition to the Whitehouse. We love him. So do our goldens, Scarlet and Pia. Our cat rudy thinks he is pretty cool too. Our cat, Chester, has not yet made up his mind. He has added alot of laughter to this household. Here is, a joyous Havanese.
Sincerely, Sue White
Dear Laura, Just a note to let you know how much we are enjoying our new addition. He has been accepted by all members of our animal family as well as our human family. We find ourselves enjoying all our animals more. The antics of the little one are too fun to watch. I see now why they are called "clowns". Too much fun. We are thinking of the name Francisco and/or Paco for short. He is becoming more apricot around the ears and face. Darling. Stacia is in love with him and is hopeful that he will turn out to be show quality. It has been a pleasure to do business with you. You do such a good job with these little guys. Sincerely, Sue White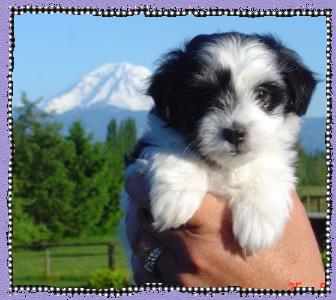 Congratulations to Pam , of MI. on her purchase of one of Roxy's pups.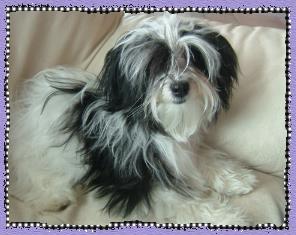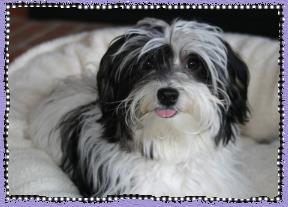 Grandviews Penny at 9 Mo. old